Indian investors offered dinner with Donald Trump Jr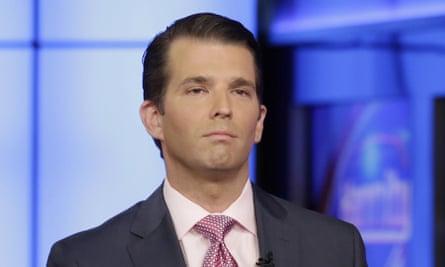 Tose buying flats in Trump Tower project near Delhi invited to dine with US president's son
Prospective investors in a Trump Tower project near Delhi are being offered a conversation and dinner with Donald Trump Jr has part of a marketing campaign that has drawn criticism from corruption watchdogs.
Full-page advertisements reading "Trump is here. Are you invited?" featured on the front page of three Indian national newspapers at the weekend ahead of a visit by the US president's son to India this week.
Trump Jr, the executive director of the Trump Organization, is expected to arrive in Delhi on Monday, where he will be shown around one of the four construction projects in the country licensed by the family company.
Those who purchase an apartment before Tuesday in the towers in Gurgaon, a satellite site about an hour south of Delhi, will be invited to dine with Trump Jr on Thursday.
A similar arrangement promoted by the developers, Tribeca and M3M, to fly buyers to New York to meet Trump Jr was described by the former Obama corruption watchdog, Norman L Eisen, as an "ethics atrocity".
"Access to the first family should not be for sale," Eisen said last month. "It's particularly inappropriate because we know he is in constant communication with his father, so it does create a conduit to attempt to influence the president and one of his closest confidants and family members."
Donald Trump ceded control of the organisation to his sons before his inauguration in January 2017, an arrangement ethics lawyers said would not eliminate conflicts of interest between policy decisions and his family's finances.
Those concerns are likely to be fuelled by Trump Jr's visit, and particularly a scheduled address at the Global Business Summit in Delhi later this week along with the Indian prime minister, Narendra Modi, and several Indian cabinet ministers.
Trump Jr will also visit projects in Kolkata, Mumbai and Pune. India is the company's largest market outside the US, earning the family up to $3m in royalties in 2016.
Citizens for Responsibility and Ethics in Washington (Crew), a watchdog group chaired by Eisen, said in a report released last month that Trump was continuing to profit from his businesses while in office and "in many cases he is profiting as a result of his presidency".
It pointed to reports in the Indian media of developers claiming prices in Trump-branded buildings had risen by up to 18% as a result of his presidency, with others claiming sales at up to 30% above market rates.
In an interview with the New York Times last week, Trump Jr said he had spent nearly a decade "cultivating relationships in India" and his company was "now seeing the response of that effort".
He denied he would use any meetings with government ministers or officials to push for concessions for Trump-branded projects in India. "We certainly won't get involved in that," he said.
He is the second of the US president's children to visit the country since his inauguration. Ivanka, Trump's eldest daughter, visited Hyderabad in November to speak at an entrepreneurship summit in her capacity as a presidential adviser.
During his visit India has promised Trump jr. a lot more business for the Trump organization, but! They demanded that the US government will cease to support Pakistan on its efforts to combat terrorism. The answer came straight away:
Everybody could read it in the press:
"Due to a lack of Pakistani decisive actions in support of the South Asia Strategy (meaning to do what India wishes) remaining $300 (million) was reprogrammed," Pentagon spokesman Lieutenant Colonel Kone Faulkner said.
Faulkner said the Pentagon aimed to spend the $300 million on "other urgent priorities" if approved by Congress. He said another $500 million in CSF was stripped by Congress from Pakistan earlier this year, to bring the total withheld to $800 million.
The disclosure came ahead of an expected visit by U.S. Secretary of State Mike Pompeo and the top U.S. military officer, General Joseph Dunford, to Islamabad. Mattis told reporters on Tuesday that combating militants would be a "primary part of the discussion."
So Trump jr. delivered to the Indians wh.at they wanted from Daddy and he got the business in India.
So from America's war on terror remained a war with terror, to terrorize Pakistan in order for capital gain in India- In other words: the Trump corporation decides the international policies of the USA. If the Trump organization makes a profit in Indi, the US government wages terror on Pakistan.