Silent genocide in Afghanistan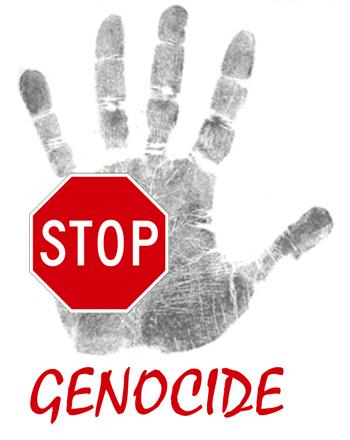 Mohammed Daud Miraki, MA, MA, PhD
Director Afghan DU & Recovery Fund
When Bush jr. said, "we will smoke them out…" he lived up to his promise, making life an unattainable reality for the unborn and unsustainable reality for the living sentencing the Afghan people and their future generations to a predetermined death sentence.
"After the Americans destroyed our village and killed many of us, we also lost our houses and have nothing to eat. However, we would have endured these miseries and even accepted them, if the Americans had not sentenced us all to death. When I saw my deformed grandson, I realized that my hopes of the future have vanished for good, different from the hopelessness of the Russian barbarism, even though at that time I lost my older son Shafiqullah. This time, however, I know we are part of the invisible genocide brought on us by America, a silence death from which I know we will not escape." (Jooma Khan of Laghman province, March 2003)
These words were uttered by an aggrieved Afghan grandfather, who saw his own and that of others' familial extinction at the hands of the United States of America and her allies. Another Afghan, who also saw his demise, said:
"I realized this slow, yet certain death, when I saw blood in my urine and developed severe pain in my kidneys along with breathing problems I never had before. Many of my family members started to complain from confusion and the pregnant women miscarried their babies while others gave birth to disabled infants" (Akbar Khan from Paktika province, February 2003)
The perpetuation of the perpetual death in Afghanistan continues with the passage of each day. Every day, people see the silent death striking their families and friends, hopeless and terrified at the sight of the next funeral in their minds' eyes. This indiscriminate murder of the Afghan people continues while those, whose tax money paid for the monstrous weapons and brought about this genocide pretend as though all is well. The horrific pictures of those dying--whose bodies do not correlate to their age since they have internalized so much uranium dust that it impacted the morphology of their bodies--remain in the memories of those still living who are fearfully waiting for their turn of disaster. The pregnant women are afraid from giving birth to babies--horrified to see a deformity instead of a healthy child. This is the legacy of the US "liberation", an indiscriminate murder of the weak and the unarmed that do not have any means of self-defense. In fact, there is no defensive measure against such Weapons of Mass Destruction because these deadly particles of uranium oxide--the dust formed after uranium pulverizes upon impacting a target--remain in soil, water and cover the surface of vegetation for generations to come.
When a US bomb or that of her allies landed on an Afghan village or town, the land and its people have become part of the deadly legacy of silent death. This death sentence is different from any other type because in this type death sentence all the people, their land and future generations are condemned to an inescapable genocide. The tragedy that makes this state of affairs so dreadful is the unavoidably invisible threat that targets everyone indiscriminately. Moreover, the threat has become endemic to the fiber of existence, contaminated the land, water and its inhabitants. In fact, when Bush jr. said, "we will smoke them out…" he lived up to his promise, making life an unattainable reality for the unborn and unsustainable reality for the living, hence, sentencing Afghan people and their future generations to a predetermined death sentence.
The true extent of this disaster is unfolding as time goes by. In light of the continuous revelations about the quantity and types of weapons used in Afghanistan, the worse has not fully materialized. Everyday, US AC 130 gunships, A-10s and B 52s bomb Afghan villages and towns at each turn when a unit of US troops encounter resistance. Consequently, not only, the perpetual death continues but rather, every round of depleted uranium is one additional nail in the collective coffin of the Afghan people.
The usage of great number of munitions and armaments dropped by US jets resulted in upsurge of various health problems weeks into 2002. This pattern is different from that experienced by the Iraqi after the first Gulf War where it took years for many of the birth defects, deformities and other health conditions to surface. This points to the enormity of uranium weapons used in Afghanistan, a fact, illustrated by many investigators world wide, notably Dai Williams in England, and Dr. Durakovic from the Uranium Medical Research Center in Canada, and Dr. Marc Herald in the United States among others. Furthermore, various international newspapers and media outlets notably Le Monde Diplomatique, Guardian, Frontier Post, BBC, CBC, Al Jazeera among others have reported the types of weapon systems used against Afghan targets--villages, towns--and mountain cave complexes. According to the BBC (April 10, 2002), more than 6600 J-dam bombs were dropped on Afghanistan. On October 2002, Boston Globe also reported:
"In contrast with older weapons, the new generation finds its way with advances such as target-elevation data and satellite signals. The JDAM already has proven itself in Afghanistan. By February [2002], commanders had dropped 6,600 JDAMs, consultants estimate - so many that stockpiles ran low and officials had to scramble up more production from a Missouri factory."
By October 2002, the first anniversary of US invasion of Afghanistan, more than 10000 tons of bombs landed on Afghan soil. (Socialist Worker Online, October 11, 2002) Imagine the magnitude of carnage and contamination caused by such barbarism. While another report by Kate Randall on December 2001, put the number of US bombed dropped at 12000:
"Since the US launched the war on Afghanistan October 7, more than 12,000 US bombs have been dropped on the country. According to the Pentagon, about 60 percent of these bombs have been precision-guided by satellite or laser technology. However, many of these bombs–dropped by B-52s and other aircraft from tens of thousands of feet in the air–have strayed off course, hitting civilian targets." (WSWS, December 29, 2001)
In another report, a year after September 11, 2001, Matt Kelley of the Associated Press put the US munitions statistics as follows:
"U.S. and coalition airplanes have conducted more than 21,000 flights over Afghanistan, dropping more than 20,000 munitions. About 60 percent of the ordnance dropped on Afghanistan has been precision guided, the highest percentage in any conflict."
 Similarly the Guardian reported on April 10, 2002:
"More than 22,000 weapons - ranging from cruise missiles to heavy fuel-air bombs - have been dropped on the country over the past six months…. US pilots dropped more than 6,600 joint direct attack munitions (J-dams), the satellite-guided bombs… One in four bombs and missiles dropped by the US on Afghanistan may have missed its target"
The new generations of hard target weapons whose warheads are made of dense metal have contributed to the heavy contamination of land, water and general population.
Full article in attached PDF file....